New Jersey Refrigerated Warehouse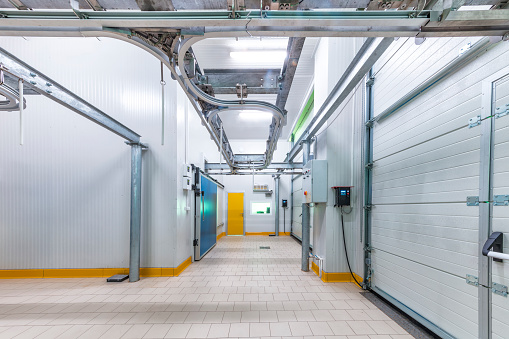 First Choice Freezers in Vineland is your easy destination for New Jersey refrigerated warehouse storage. We provide refrigerated warehousing and transportation services from a 300,000 square foot facility that is convenient to Philadelphia, Wilmington, Atlantic City and New York. Our goal is to store and transport your inventory in a modernized warehouse safely and efficiently, and to ensure that all your discerning food storage requirements are met.
As a food provider, whether you are supplying markets, restaurants or schools, the safety of your goods couldn't be more important. You also need the convenience of being able to move the food quickly when it's time to. Preserving perishable foods at the proper temperatures protects your clients, their customers and you, and you should go with a food storage provider that you can trust to do the job right.
Your New Jersey Cold Storage Professionals
At First Choice, we are committed to your product safety. We are inspected regularly by the FDA, USDA and other entities, to ensure that we meet the highest of food safety and transportation standards. We have multiple precaution measures in place to protect your inventory, including temperature alarms, 24/7 monitoring of freezer temps, freon leak alarms, along with backup compressors and power systems. All of our refrigeration is upgraded to the latest compliant freon.
Once it's time for you to have your food products delivered, First Choice will be ready for you. We use a modernized inventory system that enables us to find your food products fast, and you can take advantage of our refrigerated trucks for your products' safe pickup or delivery. In addition to available trucking services, we handle shrink wrapping, floor loading and unloading, and case picking…for whatever your needs. Our transportation services and location make it simple to transport products in New Jersey, as well as Philadelphia and New York City.
About Our New Jersey Refrigerated Warehouse
We provide several options for your refrigerated storage needs:
Cold Storage. We can keep your goods stored in temperatures as low as -20 degrees Fahrenheit.
Refrigerated Storage. Our facility features a number of refrigerated rooms for pallets of products. We provide accurate and detailed location information, for easy access when it's time to move your products.
Dry Storage. For non-refrigerated goods, we offer dry and climate controlled space as needed.
Blast Freezing. For fresh food and produce, we can blast freeze your products. Our blast freezing reduces metabolic processes and extend the life of fresh goods.
Space Leasing. Do you need dedicated New Jersey refrigerated warehouse space? We can guarantee a specific space at your needed capacity.
Our current facility is fully renovated, with LED lighting, computer controlled screw compressors and over 35,000 pallet rack positions. In addition, our warehouse management system allows us to easily store and track your products. When you need to move your stored products, we'll be ready to access your products fast, and move it where you need it with our first class transportation services.
More About First Choice Freezer & Cold Storage
First Choice Freezer & Cold Storage is a proud member of the Global Cold Chain Alliance, an organization that continually updates and establishes the highest standards for cold storage and food safety throughout the world. Currently they have over 1,100 members and provide their food storage services in 85 countries across the globe. We share the GCCA's dedication to food safety. We follow their standards to serve the South Jersey and Philadelphia community with cold storage services that are second to none.
First Choice Freezer & Cold Storage is a family-owned company, and our owner Michael Levari Sr. has been in the agriculture and food transportation industry for over 40 years. The Levari family has been serving the needs of food providers for three generations. We're proud of our track record in keeping food products safe, and ready to go to their destination.
Keep your food products stored safely and ready to move. Contact us today to arrange for your New Jersey refrigerated warehouse storage needs, or use this form to e-mail us.