Wilmington Delaware Refrigerated Warehouses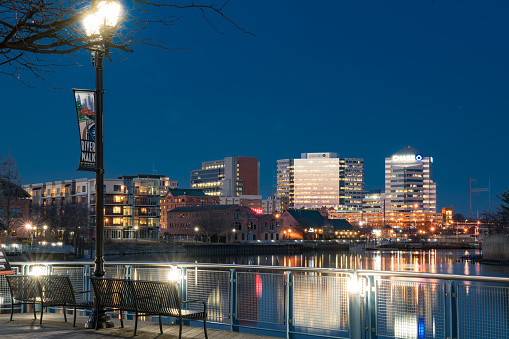 First Choice Freezers is your convenient destination for Wilmington Delaware refrigerated warehouses. Our state of the art facility is located nearby in Vineland, New Jersey, and we offer refrigerated warehousing and transportation services throughout the tri-state area. We are able to store and move your food products safely, and we have the equipment to meet any stringent standards your frozen products require.
For any entity producing or serving food, from supermarkets to restaurants to school cafeterias, the safety of the food being served is of vital importance. Properly preserving perishables at correct temperatures protects both your customers and your business, and you should go with a food storage provider you can trust.
At First Choice, we place a premium on food product safety. Our warehouse is frequently inspected by regulatory entities such as the FDA, the USDA, and others, to ensure that we are using best practices to meet food safety standards. We protect your inventory with multiple precautionary systems, including temperature alarms, 24/7 freezer temperature monitoring, alarms to detect freon leakage, and backup compressors and generators. Our freon usage is always from the latest compliant forms.
Our Wilmington Delaware Refrigerated Warehouse + Cold Storage Services
For your Wilmington refrigerated warehouse storage needs, we offer multiple options:
Cold Storage. We keep your goods stored in temperatures as low as -20 degrees Fahrenheit in our warehouse.
Refrigerated Storage. We store refrigerated products in sectioned off areas, in organized pallets for easy access and transport when needed.
Dry Storage. If you have non-refrigerated goods that need to be stored in a dry environment, we offer climate controlled space as needed.
Blast Freezing. Our blast freezing service can reduce metabolic processes, and help extend the life of your fresh food and produce.
Space Leasing. Should you have a need for long term space, we can guarantee the capacity you need until it's time to move your products.
We store your frozen goods in a modernized warehouse, with the latest in LED lighting, computer-controlled screw compressors, and over 35,000 dedicated pallet rack positions. We are able to fully and easily track your inventory, and we can help you move your product quickly when you are ready with our cold storage transportation services.
Our transportation service is also fully designed to accommodate your food storage and transport needs. We use late model Mack trucks that run from point to point on a daily basis, and we employ experienced drivers with TWIC cards that allow for easy access to secured ports. We can shrink wrap an entire pallet of your products easily, and we're happy to provide lift gate and pallet jack services as needed for your loading and unloading.
About Our Team
The Levari family represents over three generations of expertise in the industry. A family run team, every path to service leads you to a Levari. Michael A. Levari Sr. is a local member of business community. He has been in the agriculture transportation and warehousing industry for over 40 years. He oversees the day-to-day activities of the business, as well as all customer service issues.
First Choice Freezer & Cold Storage is also a proud member in good standing of the Global Cold Chain Alliance. The GCCA is an international organization that establishing the highest standards in cold storage and food safety. GCCA has over 1,100 members around the world, and currently serves food storage needs in over 85 countries.
Our mission is to handle, store and transport your inventory in a modern temperature controlled warehouse. We work to do it in the safest and most efficient manner possible as well. First Choice uses the most modern and state of the art equipment. We offer first class service and customer satisfaction.
First Choice Freezers is an easy call for modern Wilmington Delaware refrigerated warehouses. Contact us today to tell us about your refrigerated storage needs.